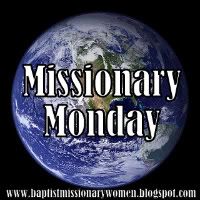 I want to thank all of you who have been participating in our Missionary Monday. If you have a blog and have not joined us for Missionary Monday, would you please consider joining up this week? It's a great way to meet other missionaries and learn more about them and their field. And don't forget to leave comments as you go blog hopping. We all love comments, don't we?
Every first Monday of the month we are sharing missionary interviews. I'm excited about next Monday! If you are a missionary women on the field, would you consider letting us interview you? Just send me an email -
baptistmissionarywomen@hotmail.com
The more interviews I have the more often I can share them!
Without further ado...