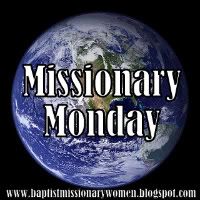 You've heard it over and over: PRAY FOR YOUR MISSIONARIES! Why do you need to pray for us? Because bad things can happen to us. I hope if nothing else, this post will keep your missionaries at the top of your prayer list.
Our regular Missionary Monday contributor, Amy, is on a little break from posting. With her permission, I'd like to share her and her family's horrific story.
One week ago our family went through a harrowing, life-changing experience. This is how my husband described last Tuesday evening in a prayer update:
Last night at about 9:45 pm at our house, Caleb announced to Amy and I as we worked on a paint job in the children's room that three men had just entered our back door. When I got to the door, I saw two guns brandished among the three criminals. Though we offered all our money and goods to them they beat me and hit Amy twice.
We are praising the Lord that after about 15 minutes wherein they tore the house apart, we were able to chase them away. They took some material possess

ions, but our lives and honor were spared because of the good hand of our God who placed a wall between our lives and their weapons.
Tomorrow, we are taking a leave for our family. Please pray that we would be comforted the way the apostle Paul was comforted when he was in pain (2 Cor. 1:5). We also need wisdom as we consider how best to honor God in light of our family (1 Tim. 5:8) and the gospel (2 Tim. 2:10).
Trusting God,
Seth and Amy
To read more about the events that took place that day,
click here
to go to their blog.
Please pray for Seth, Amy, and their family as they continue to heal from all this. Missionaries need your prayer. When the Lord wakes you in the middle of the night to pray, don't fall back asleep, PRAY! When you see our prayer card on your fridge or on your Bible, don't overlook it, PRAY! When you see our country in the news, don't just pass it by, PRAY!