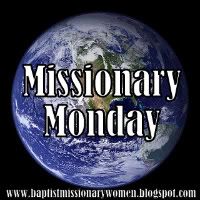 A few months ago we hosted
a blog hop
that sent you to visit the blogs of missionaries around the world. We received great feedback, so we thought we'd try it again! This time our theme is:
"10 Things I Wish People Knew About My Field"
Let's get started!!
Click here to meet Charity
.
You probably already know her, she blogs here every Thursday.
Each blog will take you to the next person,
and bring you back here.
Just in case, here is a list of all those participating...
Charity
in Southeast Asia
Dee Dee
Siberia
Jen
in Australia
Anne
in Thailand
April
in Southeast Asia
Rachel
in Estonia
Carole
in Greenland
Susan
in France
Rebecca
in West Africa
Lou Ann
in Spain
Jamie
in Southeast Asia
Have fun and don't forget to leave comments and follow their blog!