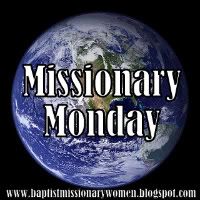 Name –
Dee Dee Sterling
Field – Siberia, Russia
Blog –
Whither Thou Goest / Serving in Siberia
1. Please share your missionary call.
While home on summer break after completing my sophomore year of nursing school, I went forward in my home church during the invitation to make it public that the Lord wanted me to be a missionary. After graduating from nursing school, my pastor recommended I attend one year of a Bible college in order to take some Missions courses. During my time at that Bible College, I met my future husband. He was just beginning deputation to go to the field of Krasnoyarsk, Siberia. Funny as it was, I was told by my pastor to sign up for a foreign language when I registered that first semester of Bible College. As I stood in line to sign up for Spanish, the only foreign language open was…Russian. I signed up for Russian not realizing what I was getting myself into! However, God works in mysterious ways and a year and six months later, I was marrying that guy who was starting deputation to go to Siberia. I felt in my heart that God wanted me to be a missionary to Russia after some time, but I just prayed for God to guide my life and send me exactly where He wanted me to be a missionary.
2. What do you miss most about the states?
The convenience of life and shopping for clothes.
3. What food do you miss from the states?
That's a tough one! Iceberg Lettuce although at times we can get it here. Two of the first food items I purchase in the States upon returning for furlough are iceberg lettuce and milk (it tastes so good to me!)
4. What do you love most about your field?
The people
5. What is a typical meal in your culture?
Borscht (beet soup) with bread. All meals are eaten with bread!
6. Say something in your language, then translate.
лучше где нас нет! This literally translates, "It is always better where we are not." As Americans, we know it as the phrase, 'The grass is always greener on the other side of the fence.' I don't know why but that is what came to me when I first read this question!
7. What are some things you do to help your children not forget family back in the states?
Take lots of photos while we are home on furlough. Call them on Skype. Encourage the children to send notes and drawings to those relatives who don't have computers or internet.
8. Please share your favorite Bible verse, or one that has been an encouragement to you.
I Thes.5:24 is my life verse. "Faithful is he that calleth you, who also will do it."
9. What have you found to be the biggest challenge on the mission field?
Learning the language
10. Name one thing God has taught you on the mission field.
To keep a smile on my face, hang in there and not lose it no matter how difficult or tough situations may seem.
Feel free to share a testimony, word of encouragement or whatever else the Lord lays on your heart.
I was just talking to my husband today about some things I would like to write on this blog or my blog to new missionary wives and then I received this note about being interviewed. So, I will share with you what I shared with my hubby. First of all ladies, for those of you on deputation or just new to your field of service, study the language to learn it. I mean dive in with both feet to language study when you first arrive on the field. Children are a blessing but if you wait until you reach the double digits in your quiver of blessings you will not have time to study properly. Very often couples are just beginning their first term on the mission field with only one or two children. That is the ideal time to study the language full-time in order to learn it. When I say full-time I mean more than once or twice a week.
Connected with that thought is another thing I would like to mention. If you don't speak the language you will be ineffective in reaching the nationals. Only after you learn a foreign language and share the gospel with a needy soul do you understand what I am saying. You can't just learn enough to "get by" with or to go to the store and actually ask someone where the bread is located. You need to be able to communicate with others in order to share your heart with them and your salvation testimony. You also must be able to listen and comprehend them as they share their problems and what is hindering them from accepting Christ. Because I have learned Russian, I have a ministry just as much as my husband does here. There are ladies and children who I know way better than my husband does. I am the one who continues to witness to them. Knowing the language and having that responsibility helps me stay focused on what God has for ME to do here in Siberia. I don't get homesick and emotional much because I see daily the people all around me to whom God has me here to witness to. What a blessing and encouragement it is when you feel God is using you! You can do it with God's help! He didn't send you to the mission field to forget about you. One of my favorite gifts is a plaque from a close friend of mine that reads, "The will of God will never lead you where the grace of God can not keep you." That is a great reminder!
Thank you so much, DeeDee for being willing to be interviewed. The first Monday of every month I will share another interview. Are you interested in being interviewed? Please email me at
baptistmissionarywomen@hotmail.com
or leave a comment!
Would you join us for Missionary Monday? Please link up a recent post about your life on the mission field!