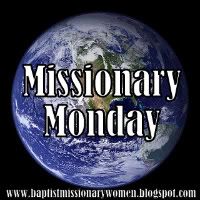 Another Missionary Monday!
I just wanted to take today to let you know or remind of a few things...
Every Monday is Missionary Monday. It's a time for you to link up your blog. Why? It's a great opportunity for us to get to know each other better and also, to help get your blog name out there (if you're interested in that sort of thing). The first Monday of each month, I share a interview with a Missionary women. Interested in being interviewed? Leave a comment or email us.
Every Tuesday is Tasty Tuesday. Patty hosts this weekly theme. If you have a recipe you'd like to share, please email us at baptistmissionarywomen@hotmail.com.
Every Thursday is Thankful Thursday. Tammy hosts this weekly theme with some encouraging words that leads our hearts to be more thankful.
Every Friday is Devotional Friday (sorry, I'm not very creative with the titles!). Carole shares these weekly devotionals with us. If you have a devotional you would like to share please email us at baptistmissionarywomen@hotmail.com.
About our pages...
Our Blogroll. If you have a blog that you would like us to share on our blogroll, leave a comment or email us.

Our Recipes. As we post recipes every Tuesday they are collected on this page. So, if you're looking for a particular recipe, check here.

Our Ministry Helps. We are trying to get a collection of websites that have Sunday School lessons, ideas, and crafts. As well as, Ladies Ministry ideas.
Also...
Pinterest! We recently joined Pinterest. If you're on there please follow us. We are creating boards to help you as a missionary wife. If you would like permission to add to our boards, let us know and and we can allow you to pin to our boards!
And Lastly...
You can find our BMW private group on facebook, as well as our public page. Please join us if you're not already. I'm also working on a button for you to share on your blogs to help promote our blog, but for now would you share our Missionary Monday button? The html is there on the right. Thanks!
Now I'd be delighted if you'd join us for Missionary Monday! Link up here...