Bonnie, our four-year old, likes to make up songs. She often says, "Mom, I need to sing a song for you. It's a song from my brain." Last night, it was a song about loving her precious baby and communication – quite the combination!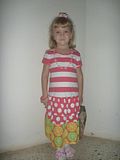 (This is Bonnie, our little songbird.)
One morning, Bonnie was humming a "song" and asked me if I knew which song it was. When I could not guess the song from her monotone humming, she said, "You know, Mom. It's 'Amazing grace how sweet the
stars
.'"
When we got home from church one day, Bonnie was singing, "Give me that all time division! Give me that all time division! Give me that all time division! It's good enough for me!" Sometimes she just make us roll laughing! She heard "Give me that old time religion…" for the first time at church that day; that was what she got out of that song! : ) None of our kids understood the song; so, we explained it to them.
One day after it had just rained, our dog found a turtle. The funny thing was that the boys were asking the dog, "Max, where did you find that turtle?" They asked him repeatedly, and they expected an answer.
Every few months, we set a day aside to go to the ocean. Our town is right beside the ocean. We drive to a place about an hour away to go to a cleaner beach. Danny loves to ride the waves on the boogie board. The last time that we went, he let everyone else have a turn on the boogie board; then, he was back out there again. Gilbert does not usually like to go on the boogie board. Joe finally talked him into it. The biggest wave would have to come along about that time. It flipped the board over. When Gilbert told the story, he said, "I held my breath for four hours!" Danny said, "Gilbert, we weren't even in the water for four hours!" It was more like five seconds, but it seemed like an eternity to Gilbert.
If you have a funny story that you would like to share with us, please e-mail it to me at

loconsford@gmail.com

. Please include the name of each family member, your field of service, and a picture of your family if possible.
Until next week, keep your sunny side up!