Whenever Seth and I need a lighter moment, we play the Name Game. We take turns listing funny English names we've heard given to the Africans upon their nativity, and before you know it, we are in tears with hilarity.
You would not believe the variety of English names we've heard over here. From Mary Jane to Harry to Kalifonia (California), we've heard more English names here than we heard growing up. But here are the funnier ones:
The okay-that-works-but-we-don't-usually-use-it names.
Precious, Gift, Happy, Tiny, Lucky, Blessing, Glory, Memory, Beauty, and Justice; and on to rare names like Oscar, Lawrence, Desmond, Godfrey, Clifford, Yvonne, Archie, and Reginald.
Seth had to pay a parking fee to a female attendant, Vicious.
The home church of one of our LBI students is the Glory Barn Church.
The is-that-an-English-name names.
Like Herron. Or Philly (sounds like Pill-y). Lionel. Forster. Irvan. (prounouced more like Ivan) Clifton.
The tyrants.
I ascribe this one to typical African lack of affinity for history, not outright ill-will. There are
two
Hitlers in our village; one attends our church. What a trophy of grace that would be if he were converted and baptized!
In the cemetery across from our house, you will see the grave of Saddam Hussein. We heard the reasoning for that at his funeral. His parents said when he was born, they heard that there was a man strong enough to go against America, and they wanted their son to be that strong;...thus, Saddam Hussein once walked amongst our village streets.
the Bible names
. Several Solly's (short for Solomon). Lemuel is a church member. Moxe (Moses) is a child in my Sunday School class. Philemon (pronounced Fill-a-mon) taught us Venda when we first came. Seth teaches Trinity every Wednesday.
Absolutely-made-up names
. Skyborne, Loveness (hey, normally -ness makes a noun from a verb, right?), Lovemore, Flovah, Oedipus, Delicia, Strongman, Jastone, Rabbyboy, Edmore, and a family of 5 brothers: Albert (so far so good). Libert. Ebert. Wilbert. And Ozbert. :)
This one deserves a sentence of its own: Roadblock.
The do-you-know-what-you're-saying names.
(These go along with the category above.) Wastemore. Acres (pronounced Ah-Chris--he's a teen church member.) He was born in a hospital in Johannesburg named Green Acres.
One of the best ones we heard in this category comes compliments of fellow South African missionaries. They met a Fay-molly.
Sorry, what did you say?
Faymall-y.
Could you spell that?
F-E-M-A-L-E.
Ohhhh.
Her mother wasn't sure what to write down in the hospital, so she copied the word that was checkmarked for gender!
And finally, our crowning moment of hilarity in the Name Game is when we get to the name of a pastor who held a crusade in our teammate's village down the road. On the handouts, his name was listed as....
Pastor Teargas
.
Can't resist...
"I went to hear Pastor Teargas tonight. The whole audience was moved to tears at his preaching."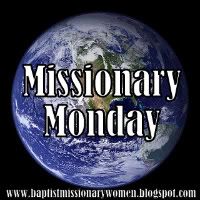 Have you come across funny English names on your field of service?