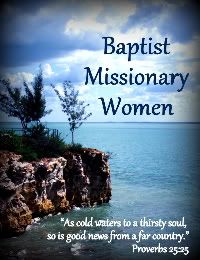 Good question! I'm so glad you asked!!
Who are we?
Jen (me), Carole, Tammy, Patty, and DeeDee - You can check out our contributor's page to get to know us better.
What are we here for?
We are here to encourage you, pray for you, share recipes with you, offer advice, wisdom, and Scripture, and if there is anything else we can do for you, let us know!
This blog is for missionary women around the world. If you're not a missionary woman, don't worry, you are still welcome here! The idea for this blog is to be an encouragement to the missionary women who are currently far from home, but if it's an encouragement to anyone else, then we're doubly blessed!
Here is a list of what happens on a weekly basis here...
Missionary Monday -
a weekly themed link up.
Tuesday
Thursday
Thursday's Thoughts -
Weekly posts on motherhood, singleness, mk's, and more!
Friday
Devotionals written by the missionary wife for the missionary wife
and some Q&A posts, where we ask the questions and you give the answers!
Sunday
Scriptures pointing our hearts and minds towards worshipping the Savior.
Holidays and Special Occaisions
We also have special posts for Mother's Day, Father's Day, VBS's and more
to help give you ideas for your ministry.
How can you help? Again, I'm so glad you asked!
do you have a question that needs an answer?

have you written a devotional?

do you have a photo that you have taken and added Scripture to?

a blog that you frequently right at?
We need your help to keep this blog going. If you can answer yes to any of those questions, send us an email at:
For the missionary women - you can find a special group made just for you on facebook. It is a private group so you can feel comfortable to ask your questions there or share your prayer requests. We have a great group of women on there that are always encouraging and praying for one another. Look up BAPTIST MISSIONARY WOMEN and ask to join. Please note: you MUST be a missionary woman to join.
One last thing...
if you have a blog would you share our button at the top right hand corner, to help spread the word that we're here? Thanks!