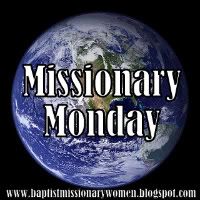 Another Happy Monday to you!
This week, we are meeting DeeDee.
Hello! My name is Dee Dee Sterling. I have been married to the man of my dreams since 1996. In 1999, we left for the mission field of Siberia, Russia. Contrary to popular belief, we don't live in an igloo or drive a dogsled! After learning the Russian language and working for several years in an already established church in the city of Krasnoyarsk, we moved to a smaller village and began our first ministry. I have a Bachelor of Science degree in Nursing, but my most important job of all is being a mother to our three wonderful children. I accepted Jesus Christ as my personal Savior at the age of sixteen and have never looked back. My life verse is I Thessalonians 5:24, "Faithful is he that calleth you, who also will do it." I truly believe that the will of God will never lead you where the grace of God cannot keep you. His grace and mercy have been evident in my life, and I consider it a great privilege that He would use me as a missionary. You can read more about our ministry at
Serving in Siberia
and more about what it is like to be a missionary wife at my blog -
Whither Thou Goest
.