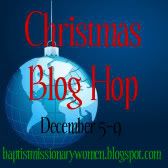 Ladies, Carole and I are excited to announce The Baptist Missionary Women Christmas Blog Hop. No idea what a blog hop is? Well, let me explain. During the week of December 5th we will put up a special post about the blog hop. At the bottom of the post there will be a place for you to link up with your blog.
You do not have to write a special post to link up, but we would love it if you did! You could share your family Christmas photo, photos of your house at Christmas time, or write about a special Christmas tradition your family does on the field.
You have some time to think about what you want. The Blog Hop will start December 5th and go through December 9th. Carole and I are excited about the Blog Hop, and we think it's another great way to get to know each other better.