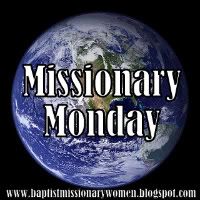 I hope you enjoyed "
A Day in the Life of.
.." last week. I hope to make that a monthly feature, but I need your help! Please write about a typical day in your life and email it to us at baptistmissionarywomen @ hotmail.com (no spaces).
The purpose for Missionary Monday is to allow you to link up your blog so that others can stop by and read about your life on the field. I chose a weekly theme, but if you don't have a post to go with that theme, feel free to link up your blog. If you have a weekly theme idea, please leave a comment.

Also, I'd love for you to share one of our buttons (there on the right) on your blog so others know where to find us. Thanks!
Next week's theme: Cooking