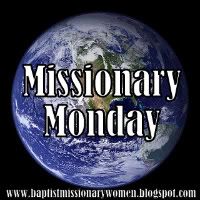 Happy Monday!
I'm going to take the next few Mondays to introduce you to our contributors,
just in case you don't know who is posting!
This blog is written for missionary women around the world
by missionary women around the world.
I'm Carole Shull, missionary wife in Greenland. When I promised my almost-fiancé that I'd follow him to the end of the world, little did I know he'd take me up on it! We were married in the year 2000, took our honeymoon to Greenland, and I've been on Top of the World ever since! We were continually met with closed doors when we applied for Greenland; so we followed God's leading and moved to Iceland for a short period of time. It was there that the Lord miraculously opened up the door to Greenland for us and has continued to do the impossible ever since. Our motto has been "With God All Things Are Possible," and we're living proof of that! Now the door to Greenland is open to other Baptist Missionaries, and we wait in anticipation to see what God has in store for this oft forgotten country.
We are blessed with five children, Christopher (10), Anna (9), Emilía (6), Jonathan (5) and Mattaliina (1). Living in a small, isolated town far above the Arctic Circle has been an adventure that we wouldn't trade for anything! We home school our children and are working hard on learning two difficult languages and building relationships. We love the people God has called us to and strive to see souls saved and lives changed for HIS Glory! You can read more about our life in the North on my blog

Arctic Adventures

-